Project overview
Learn French With Alexa is the web presence of Alexa Polidoro, one of the foremost French language teachers on the Internet with a YouTube following fast approaching 2 Million subscribers at the time of writing.
The existing website needed a complete re-design & rebuild from the ground up to support this fast growing company.

Project objectives
Migrate to a new Content Management System.
Implement a modern UX focused design with focus on mobile usability.
Build an integrated e-commerce system to handle the subscription system.
Add various subscription system features for users such as being able to favourite lessons, navigate through videos using chapter marks.
Enable features that market the site effectively to build up the email subscriber list and increase the subscribers themselves.
Modernise the Brand with new a new logo set and design system.

When we launched the first iteration we were able to triple the monthly revenue in the first month and it has grown steadily from there.
Design phase
Considering we have such a charismatic individual as Alexa, the strong French connection and the existing knowledge of the typical users, were able to generate a colour palette as a base that is familiar to existing users so that the new site doesn't feel like a revolution, and we were able to put Alexa front and centre also. This means that new users coming from sources such as YouTube are able to quickly get that recognition that they are in the right place.
We conducted user research via email survey and phone call follow up in some cases, to ascertain the biggest pain points that existing users experienced and to ensure that we address those moving forward.
Development phase
The requirements of needing a website capable of handling a wide array of membership related functions combined with large spikes in traffic led us to choose Craft CMS as the platform to build on.
We settled on the native Craft CMS Commerce plugin to handle the subscriptions due to it's tight integration with the CMS and the ability to use the "Stripe" payment gateway which is always popular with our customers due to it's modern interface and flexibility to take payments in a variety of ways whilst supporting a wide range of coupon and discount options.
Integrating the video streaming platform "Vimeo" into Craft CMS offered benefits of optimised video streaming that worked well cross platform and device.
Outcome
We are now on our second iteration of the site which reflects the updated branding and the customer feedback has been great. A lot of users are communicating their happiness with the new designs and an easier to navigate website with a logical flow through the lessons.
The site members and revenue are continually growing. When we launched the first iteration we were able to triple the monthly revenue in the first month and it has grown steadily from there.

What's next
We're very proud to have taken Learn French With Alexa to this stage and they are very ambitious to take themselves to bigger heights.
To make this happen, we will be undertaking a large program of SEO (search engine optimisation) and SEM (search engine marketing) alongside bedding in the content strategy over time to achieve this and look forward to combined success!

More of our work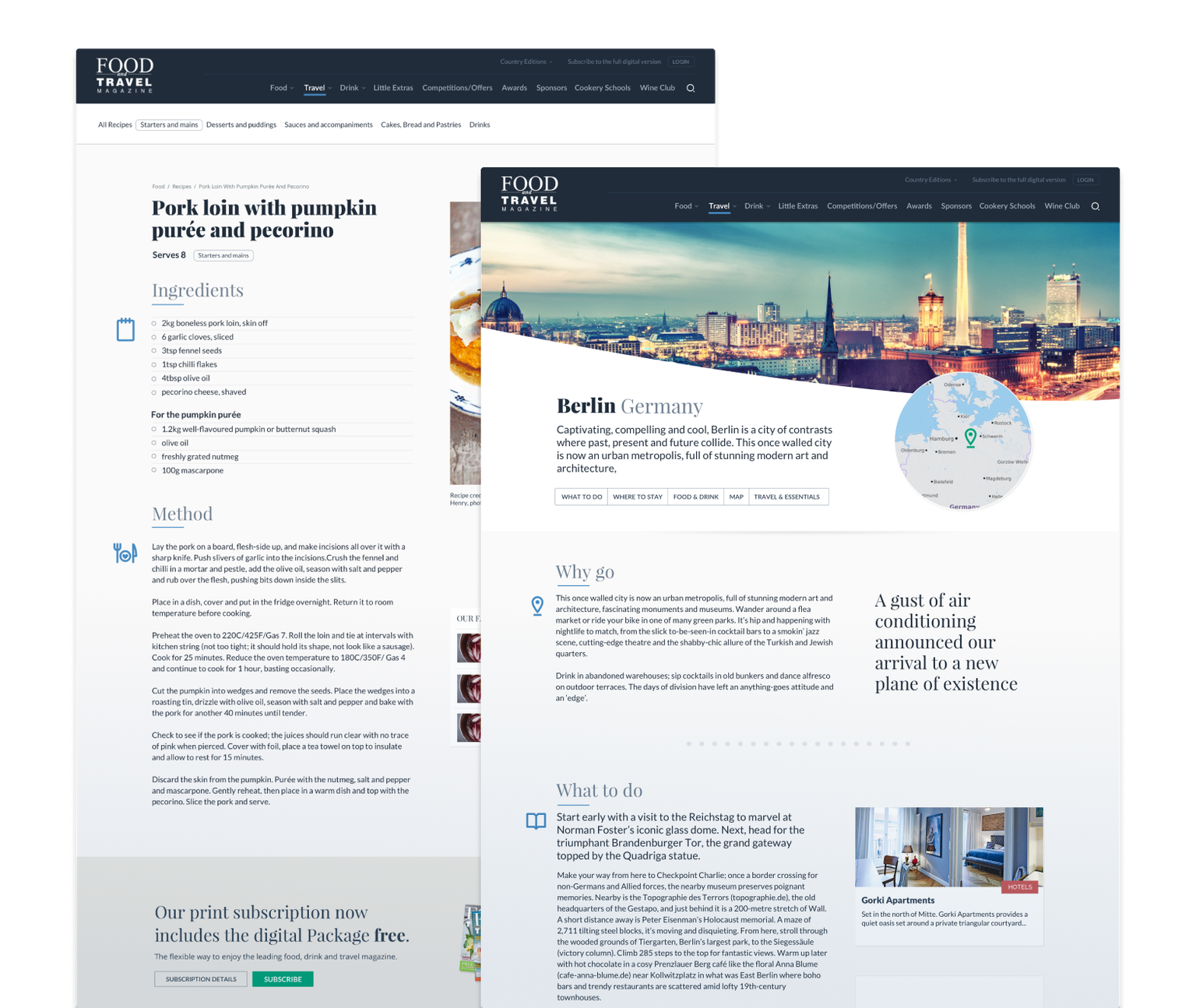 We helped Food and Travel Magazine grow their digital product
View case study
We took over the website of one of the biggest Travel Companies in the UK
View case study