Project overview
World of Cruising is on a mission to change the cruise marketplace. With their unique combination of superb content and sheer depth of industry knowledge, we could begin disrupting the major players in the cruise booking market!
Project objectives
We worked in partnership with World of Cruising to differentiate its brand in the market. We were to lean on years of excellent cruise content created for cruise aficionados in the magazine itself and the deep product and market knowledge of the stakeholders in the business.
The existing WordPress website was incapable of supporting this project, so our first task was to move all content from the current site into a new system, but first design an SEO migration strategy.
The challenge was to combine news-centric content with a new cruise booking search engine and an improved magazine subscription mechanism. All this, while supporting the commercials needed to turn this site into a highly-profitable venture.
Our objectives were:

Add a cruise break search engine
Implement visitor-to-partner tracking
Migrate and integrate all content from the existing site
Add e-commerce to the site to handle magazine subscriptions - and more products in the long term
Integrate with multiple third-party systems
Import & transform massive amounts of cruise data from third-party API
Import data from "partners" into the data set via various methods such as API's, Google Sheets, FTP etc
SEO planning and implementation
Implement an advertising platform

1) The Challenge/Goal identification

The design & UX challenge was integrating multiple potential customer journeys for three distinct products, each critical to the business.

The core business is a magazine, and increasing magazine subscription numbers is vital to the business. Consequently, we needed to incorporate this into the overall design to clarify the core customer journey
World of Cruising has a business asset of thousands of content pieces created over time, with every magazine edition adding to it. Therefore, it needs to both support the customer journeys through to the new cruise search engine and increase revenue from advertising
The cruise search engine and all of the supporting cross-selling through to the individual cruises listed throughout the site's content.
2) Research
We interviewed key stakeholders about their frustrations with their competitors. We knew their depth of industry knowledge would help quickly identify the existing offerings' weaknesses and lead us to create the baseline requirements.
We then conducted user interviews to confirm our research and build our understanding of what was needed to define the correct user journeys for our target audiences—including the information points and look & feel that would give the visitor a positive interaction.
3) Persona building and customer journey mapping
We built user personas to represent core user types and work out how to solve their problems in finding exactly the right cruise.
For the customer journeys, we mapped out the three above products, the user types we would support for each, and how we would get them from their entry point to the target destination.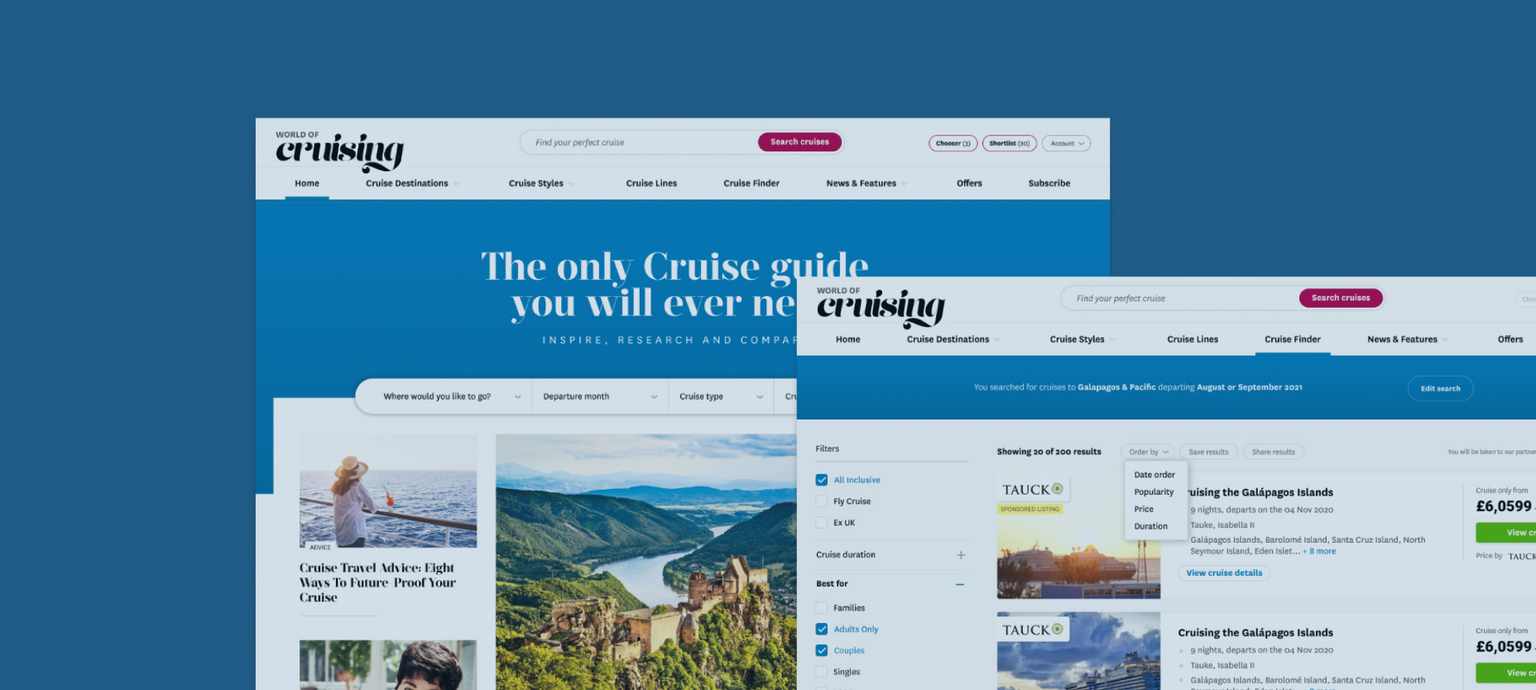 4) Design
This was a fast-paced project with a very short delivery time frame. In order to meet the deadline, we skipped pure wire-framing and produced basic concepts of the designs at an early stage to collect feedback and keep the project on track.
We developed sitemaps, user flows, images, icons, and colours. The World of Cruising team was invited into Figma, our design tool, so that they could give feedback as we progressed. The shortcut helped validate our decisions quickly. And with broad agreement on the layouts, look and feel, and adherence to the brand guidelines, we could start development in parallel with the designs.

CraftCMS Build
The existing website was doing a good job of allowing visitors to read the digital version of the information published in the print magazine. Still, it would not be up to the challenge here. To power this large-scale project, we chose Craft CMS. With its combination of a best-in-class content authoring experience and the power of the under-the-hood feature set to allow us to extend the system where needed, it was the informed choice.
Putting content sections for the cruises alongside the content-building features for the site's core pages (such as the informational pages and the news & features sections), the content team can pull cruise information into their rich content to showcase the cruises. There are now powerful filtering options to help build user journeys that take visitors from the content entry points into the cruises or into the cruise search itself.
Craft CMS allows the cruise search data to sit alongside the content on the rest of the site. In addition, it makes for a robust setup which enables us to implement new features quickly and easily, including:

Importing and transforming rich text content
Exporting to or importing from APIs and various other data sources
Supporting a fantastic content experience
Integrating third-party systems into it with ease
Facilitating a powerful cruise search engine
Integrated e-commerce

With new features and growth happening rapidly within Craft, we are confident the CMS can handle almost anything we may ask of it.


Cruise search engine
Solving the search and filtering in the cruise search component is a complex and fascinating task. We tackled:

Commercial considerations woven into the functionality
Sponsored listings
Priority-ordered search results
The challenge is to design and build a solution that pulls in cruises with World of Cruising's base pricing, while layering in partner cruise pricing, so partners can add value with special deals and discounts. We show itineraries plotted on a map along with rich information on each destination to support the decision-making process, ship information, prices on the different room types and much more.

Migration from previous CMS and technical SEO work
Migrating from one content management system to another is relatively easy; we have done it many times. However, the real challenge lies in designing and executing a solid SEO setup and ensuring the required processes are correct.
The existing site's content structure had to be reworked from a flat hierarchy to a well-structured, clear content groupings-led approach to assist with the overall SEO content strategy. Time spent in spreadsheets at the outset of the project paid dividends, and we were able to set up the redirects to ensure we lost no page value in the transfer.
We pulled the content from the existing website, cleaned it, restructured it and transferred all its images to the new site.
Finally, post-import/migration analysis is crucial. We ran the site through various SEO tools to ensure everything was set up correctly and any remaining issues were resolved.

E-commerce
A full-featured ecommerce system now lets visitors quickly and simply subscribe to the magazine for their choice of term. In addition, the system supports World of Cruising's goal to increase subscriber numbers.
Behind the scenes, we have integrated with their publishing house that handles the physical magazine delivery. As a result, we deliver subscriber information to them seamlessly.

API integrations
To keep the cruise search engine running with up-to-date cruise information, we have partnered with a company offering a data-rich API of cruise information with a depth of detail on cruise ships, destinations, pricing and facilities.
We have also integrated data feeds from World of Cruising's partners to pull in their cruise deals and add them to our cruise results. The outcome is a comprehensive cruise search that gives visitors options on who they book their cruise with, and offers them the best price and greatest value.
But writing the code is only part of the story. We have built a strong knowledge of cruise data and the cruise industry. We have developed a suite of processes to consume and integrate the updated cruise data into our search engine and ensure we have up-to-date information our visitors can rely on.

Partner tracking
To ensure we can provide the visitor information needed by partners, we implemented a visitor anonymous tracking system that logs the visitor jump-off points to our partners, filters out web crawl bots and cuts out duplication.
Accurate reporting and the ability to feed back the performance of our commercial partnerships are essential to the success of this site. We can provide accurate reporting to partners showing the effectiveness of their relationship with us, how visitors find them and basic information such as their country of origin.

Advertising Platform
Advertising is a significant revenue stream. So, we had to ensure that advertisements maintain the website's visual quality and loading speed. By implementing an enterprise standard advert serving platform, we can provide contextual and relevant advertising to the site visitors from our carefully selected industry partners.
Staff can manage the whole process, and we can support many advert types, including full-page takeovers, video and third-party system adverts. In addition, we can inject cruise and/or content section-specific data into the adverts to enable intelligent advert delivery based on the content of the individual page, section or cruise—or data on the specific cruise, such as operator or destination.

Outcome
We planned and executed user journeys and designed a vibrant and brand-conscious look and feel to support visitors to this content-driven cruise search engine, a growing revenue source for the business.
News can be read, cruises can be found, magazines can be bought, and visitors can access a vast wealth of cruise information to help them make informed decisions on their next cruise journey.

What's next
At its launch, a website of this size and scope is only at the start of its journey. So LuckyTurn Media has been working hard with the World of Cruising team to refine and improve what we built and implement new features driven by what we discover about our visitors and how they find what they need.
We are now helping hire and build an internal development team as the business transitions into a digital-first company. We are still building and designing but now also operating in a consultancy capacity whilst working on the higher-level architectural goals of the whole business and assisting with planning and strategy.
It's been an incredible journey working together with the World of Cruising team, and we are all looking ahead to the big plans for entering international markets in the years ahead.